A Tennis Dress With A Feminist's Agenda
The film Battle of the Sexes comes out this week timed with the real event's 44th anniversary. The actual match is arguably one of the most symbolic battles in sports. Let's take a look at what Billie Jean King selected to wear that night.  It was a perfect choice, a tennis dress with a feminist's agenda.
September 20, 1973, I recall sitting on the floor in front of the small television in our wood paneled family room, close enough to reach the volume dial if someone in the room started talking. Bobby Riggs was all spectacle, loud and cocksure in his dismissal of women's talents, especially Billie Jean's. I, a young student at an all girl's school bent on nurturing strong women, was blown away by the unbridled sexism permeating the event.  King appeared unfazed and, while I held my breath, absolutely undid the man. It was heady stuff watching a woman owning what I was being taught; women could be, individual, strong and convicted.
The dress, designed by Ted Tinling, was a a slim cut shirt style with buttons up the front, open neck and pointed collar (so in style at the time). A floral band of blue subtly dotted with crystals was the only ornamentation. It sat mid thigh in length. There was nothing showy or provocative about it. That is the point. The sixties had been all about frilly, ultra feminine and short tennis dresses. Billie Jean's choice for the early 70s Battle told a different story. She had serious work to do.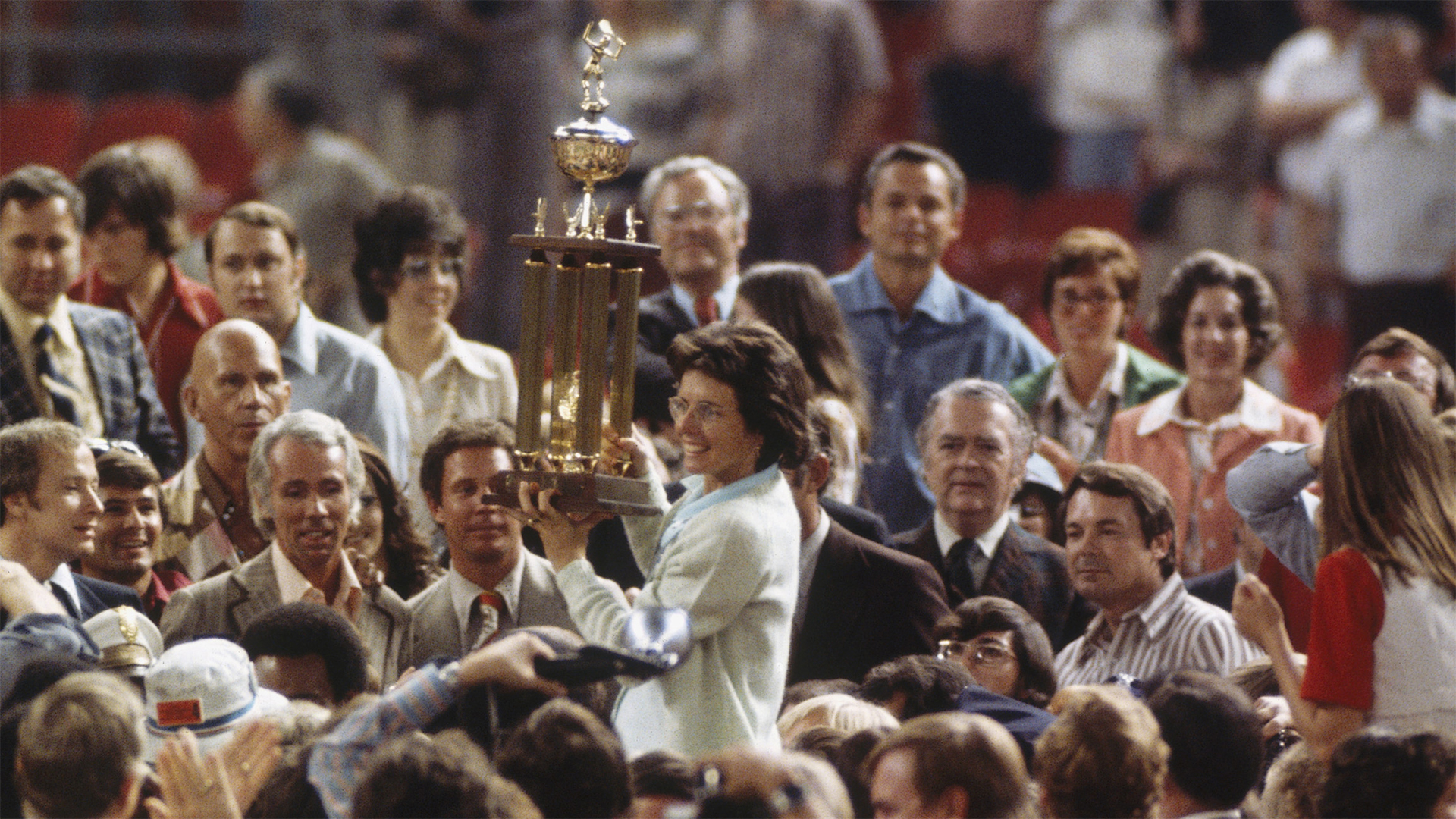 More on the  movie and match with video clips HERE.
In hindsight, the Battle of the Sexes may have helped infuse women's rights with new energy. The WTA was created, Title IX was born, the book Our Bodies Ourselves was published, Cosmopolitan Magazine wrote increasingly "daring" articles, the pill was legalized and discussions about women's roles in the workplace were changing.
The dress did its job. King's talent and conviction were what was noticed. Women's rights went mainstream that night.
***
While developing this piece Vollaix sent us their Rose dress – hmmm, looks like a modernized version of Billie Jean King's Battle of the Sexes dress, right?! Another classic reborn and perfectly timed.
P.S. – Notice the racquet in the shot. It's an original Wilson BJK. So good.