Where to watch Wimbledon 2016 on a big screen in the UK
It is time for Wimbledon, the oldest tennis tournament in the world. The Championships also happens to be one of the hardest tennis tournaments to get tickets to. If you didn't secure your place with the ballot or queuing up for hours is not your idea of fun, you can watch Wimbledon on the big screen in many different places throughout the UK. A little tennis on your way home from the office? Not a bad idea but with the Euros running concurrently, finding those places is difficult!
This year Wimbledon takes place at the All England Lawn Tennis club between Monday June 27 – Sunday July 10. We will find out if we will have the pleasure of seeing a Djokovic – Federer final once again quite soon!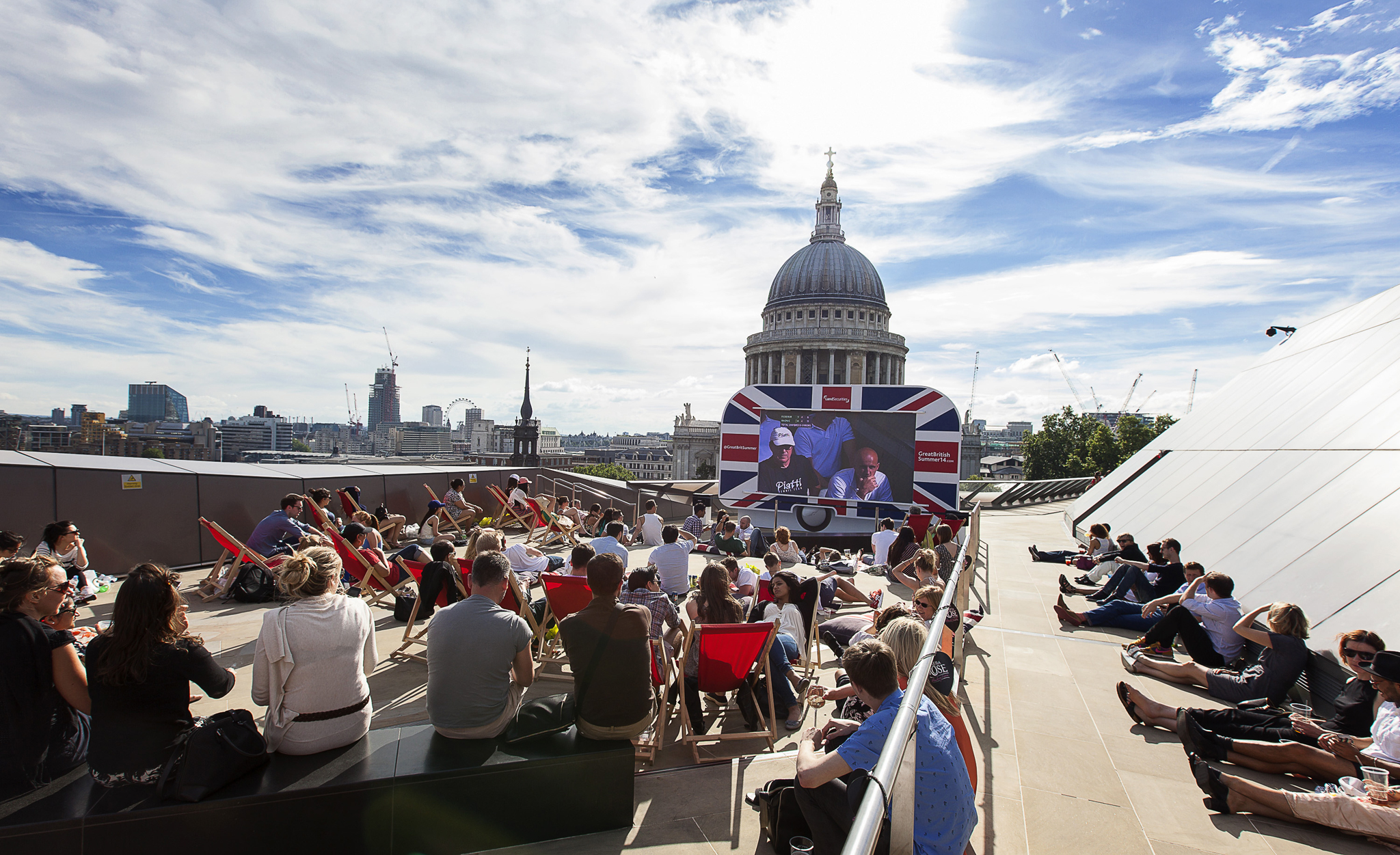 If you are in London, Manchester, Newcastle, Liverpool or Leeds here's where to watch the tournament and get that ultimate, authentic, British experience. Thanks to the sports experts at Decathlon for compiling this helpful info!
Where to watch Wimbledon in London?
1. London Bridge City Summer Festival
Where: London, SE1 2DB
Tube: London Bridge
Entry Fee: Free
Venue website: lbcsummerfestival.com
Details: You can watch Wimbledon in this summer festival on a large screen at the Scoop. Have some strawberries and cream and a glass of Pimms and enjoy the sun!
2. Pop Brixton
Where: 53 Brixton Station Road, London, SW9 8PQ
Tube: Brixton
Entry Fee: Free
Details: If you want to follow the tournament, not very far from the actual Wimbledon location, you can try Pop Brixton. If you feel like you want to do some sport yourself, Pop Brixton is the perfect venue as it has a dedicated workout area for visitors.
Venue website: popbrixton.org
3. Strawberries and Screen, King's Cross
Where: Granary Square, King's Cross, London N1C 4AA
Tube: King's Cross
Entry Fee: Free
Details: King's Cross 'Strawberries and Screen' will offer one of the largest and best quality screens in London to watch the Wimbledon Championship in the heart of London. Some fresh strawberries and cream will be on sale, but the name of the venue speaks for itself, isn't it?
Venue website: kingscross.co.uk
4. Red Market
Where: 288-299 Old St, London, EC1 9DP
Tube: Old Street
Entry: Free
Details: Located in Shoreditch, the Red Market is the perfect place to have some street food, good cocktails and some tennis time outside. Strawberry Caipirinha, Passion Fruit Mojito and an exclusive Pimms Tent are only some of the goodies you can enjoy at this market.
Venue website: redgallerylondon.com
5. All Bar One
Where: 37-39 Wimbledon Hill Road, London
Tube: Wimbledon
Entry Fee: Free
Details: This is the only venue in London that is a pub, and made it to this list. The
reason is that All Bar One Wimbledon has turned their beer garden into Pimms
garden and have decorated the place in style. Also, what could be better than
being in the heart of the action, you can also hope to see some of the star tennis
players walking by, cool not?
Venue website: allbarone.co.uk
If you still cannot pick from the locations above, you can try the retro caravans
that will be parked in different location around London for you to enjoy the
tournament. You can find those caravans at Cardinal Place in Victoria, on the roof
terrace at the One New Change Shopping Centre and at New Street Square in the
City.
Where to watch Wimbledon in Manchester area?
1. Trafford Centre
Where: Stretford, Manchester M17 8AA
Entry Fee: Free
Details: If you want to combine tennis with shopping, The Trafford Centre will be showing Wimbledon's matches for free on a large screen near the food court, where you can enjoy food and refreshments.
Venue website: intu.co.uk
2. Media City, Salford
Where: The Greenhouse, 101-110 Broadway, Salford M50 2EQ
Entry Fee: Free
Details: There is big screen waiting for you in Salford's Media City which will be showing all tennis action during the tournament. You can enjoy cocktails, Pimm's, a BBQ and ice cream while watching the most important games surrounded by tennis fans.
Venue Website: mediacityuk.co.uk
Where to watch Wimbledon in Newcastle?
1. Monument Movies NE1
Where: Grey's Monument, Newcastle upon Tyne
Entry fee: Free
Details: There will be a big screen which will show the Wimbledon Tournament
in the centre of Newcastle, close to Monument Metro Station. You can relax,
follow the championship games, and hope that there will be no rain interrupting
the fun!
Venue website: getintonewcastle.co.uk
Were to watch Wimbledon in Leeds?
1. Millenium Square
Where: Leeds, LS1 1UR
Entry Fee: Free
Details: The tennis enthusiasts will be able to follow the Wimbledon Championship on a big screen in Millennium Square. The area will be equipped with deck chairs and picnic benches. There will be artificial grass to make the experience even more authentic.
Venue website: whatson.leeds.gov.uk
Where to watch Wimbledon in Liverpool?
1. Rileys Sports Bar
Where: Grand Central, Bolton Street, Liverpool, L3 5LX
Entry Fee: Free
Details: The Rileys Sports Bar has a 3-metre HD screen where they will show the important Wimbledon games, the smaller games will be shown on normal screens around the bar. If you happen to also be a football fan, the Euro will be aired as well. Food is served all day, so you can enjoy a meal along some drinks.
Venue website: rileys.co.uk
Wimbledon is one of the world's most exciting sport events bringing together celebrities from all over the world to share their passion for tennis. If you are one of those fans, you can use this information and go watch Wimbledon for free at one of the venues suggested or just queue up and go see your favorite players live!