10 Of The World's Most Unique Tennis Courts
Most tennis courts are regulation shape with clay, grass, asphalt or rubberized surface and the standard surrounding,  but, there are few individuals who wanted to spice things up in the tennis world and decided to make tennis courts in some of pretty incredible places and spaces. So, let's check out some of the most unique tennis courts from all over the world:
A PRIVATE ESTATE LOCATED IN THE TURKS AND CAICOS ISLANDS
This incredible location is actually a private island called the Emerald Cay. There is not much between you and the beautiful emerald sea on this special tennis court.
HACIENDA DE LA PAZ — ROLLING HILLS, CALIFORNIA, USA
An elegant indoor tennis court like this one would definitely leave you breathless. It is made by the US Open specification so it is a real tennis court, surrounded with amazing architectural spaces. When you are playing tennis on this court, you have to stay focused or you will start looking at the surrounding, not the ball. Chasing a ball down would be kind of fun.
A ROOFTOP IN PARIS, FRANCE
There is something about tennis courts and rooftops because this is not the only rooftop transformed into a tennis court on this list. This is not a real size tennis court of court. It's art, an idea is so cool it had to be on this list!
UNDERGROUND RACQUETS LTD. — CARTHAGE, MISSOURI, USA
Another indoor tennis court is actually located in a real underground cave! This most amazing tennis court is in Carthage, Missouri and you can't enter that easily because the tennis court is a part of the members-only club.
IL SAN PIETRO DI POSITANO – POSITANO, ITALY
Another 100% natural tennis court, surrounded by the mountains is actually part of a luxurious 5-star hotel in Italy. A match played on this court will definitely leave a permanent mark in your mind and memory. Simply spectacular.
BUNABHAINNEADAR TENNIS COURT – ISLE OF HARRIS, SCOTLAND
When someone says Scotland you think about high winds, kilts and sheep and this tennis court has all of the above. You are surrounded by air and wind because, as you can see, the court is in a  supremely remote location. If you want to have peace and quiet while playing tennis, this is the best location you can find.
It's hard to pick ten! There are SO many. Find even more beautiful tennis courts on our Pinterest Board.
SINGITA SABORA CAMP – SERENGETI NATIONAL PARK, TANZANIA, AFRICA
Some people explore Africa on safari, others while playing tennis among the zebras.  The court is located in Tanzania's Serengeti National Park, which means that animals can walk wherever they want, including on the tennis court. I would recommend this court to every adventurer I know.
THE BURJ AL ARAB HOTEL — DUBAI, UNITED ARAB EMIRATES
Burj Al Arab is one of the most famous buildings in the world because it is at the top of the tallest buildings in the world list. And on the pinnacle of that building, you can play tennis. This match is definitely not for people with weak hearts.
PALMA DE MALLORCA — BALEARIC ISLANDS, MALLORCA, SPAIN
Two tennis courts in one was a temporary tennis court made for exhibition match called "The battle of the surfaces." The court consisted of grass court on the first half and clay court on the second half. The match was between Rafael Nadal and Roger Federer and the winner was Rafael Nadal.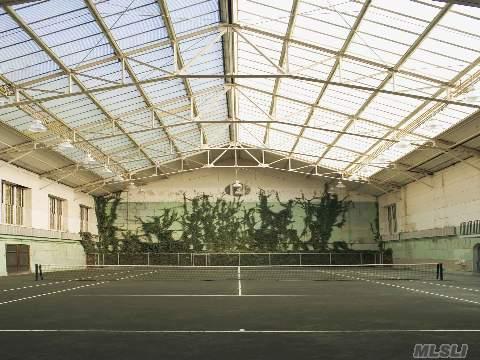 A PRIVATE RESIDENCE — OYSTER BAY, NY, USA
Another closed to the public tennis court deserves to be on this list because it looks so vintage yet look at that pristine court. It's indoors, but the roof is glass so natural light floods the court – best of both worlds in winter. Besides sunlight, the court has ivy climbing its walls bringing nature indoors nature just like a conservatory.
Thanks to Mark at FoosballZone for compiling this list!